Born free appalled by conditions at bloemfontein zoo
BORN FREE APPALLED BY CONDITIONS AT BLOEMFONTEIN ZOO
Born Free is very concerned by recent reports that animals have been found starving at Bloemfontein Zoo in South Africa, after it was closed to the public late last year.
National Council of Societies for the Prevention of Cruelty to Animals (NCSPCA) investigators reported that animals including buffalo, impala and Barbary sheep had already starved to death, whilst numerous other surviving animals were showing signs of hunger and malnutrition. Animals at the zoo include birds, reptiles, herbivores such as antelope, and carnivores including jackals and big cats.
Members of the local community have reportedly been helping to provide food for the remaining animals, but clearly urgent action needs to be taken to close this zoo once and for all.
Dr Chris Draper, Born Free's Head of Animal Welfare & Captivity, said: "Born Free is aware that Bloemfontein Zoo has received significant attention in recent years in relation to animal welfare concerns, but nothing had prepared us for recent reports. The NCSPCA's investigation has revealed shocking conditions at the zoo, and it is appalling that this situation has been permitted to occur."
Born Free is in contact with friends and colleagues in South Africa to offer assistance in resolving this situation.
ZOOS & AQUARIA SHARE ON FACEBOOK SHARE ON TWITTER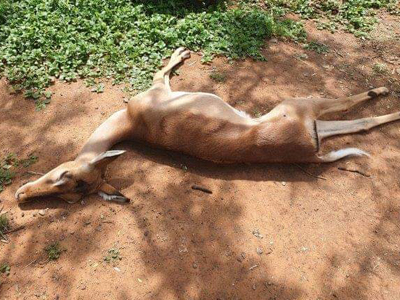 © Bloemfontein SPCA