Alpha and cora begin their new lives in south africa
ALPHA AND CORA BEGIN THEIR NEW LIVES IN SOUTH AFRICA
We are delighted to announce that Alpha and Cora, two lionesses who were confiscated from a bankrupt zoo in Spain are settling in to their new South African home at Born Free's Rescue Section at the Panthera Africa Big Cat Sanctuary.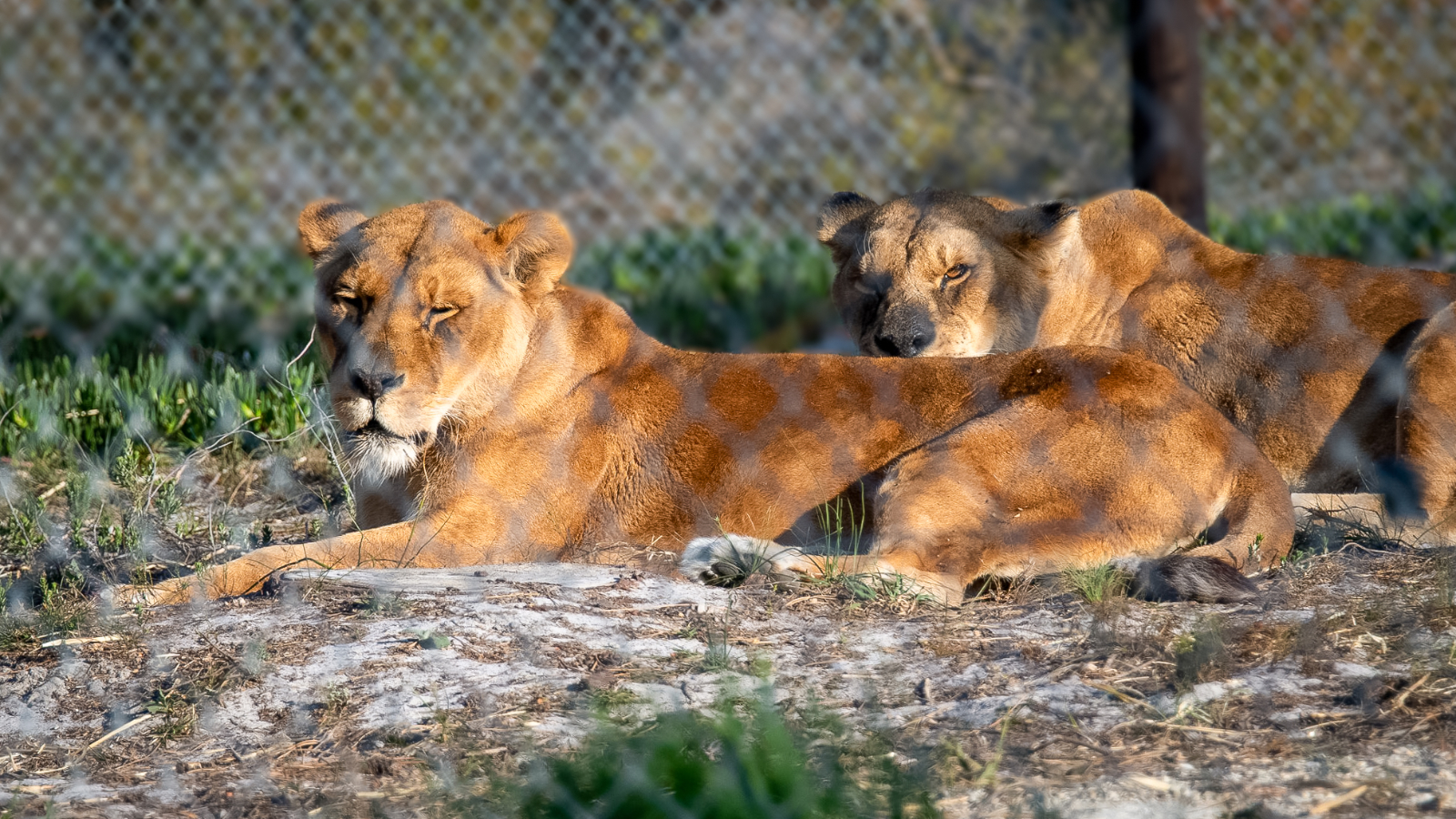 Alpha and Cora are thought to be around 13 years old and are lifelong companions. Their arrival at their new home at Panthera Africa Big Cat Sanctuary, 140kms from Cape Town, will allow these older lionesses to live out their days in safe and natural surroundings, exploring the sights and sounds of their ancestral home.
Little is known about their early years, but having been born and raised in captivity, both Alpha and Cora suffer with some health problems which could be due to the poor nutrition and cramped conditions they endured for many years at the zoo. Because of a severe vitamin A deficiency, Cora walks heavily on her front legs and needs to be regularly monitored. Alpha needed to have one of her teeth removed due to decay.
The lionesses made the journey from their temporary home at Natuurhulpcentrum wildlife rescue centre in Belgium, to the new Born Free Rescue Section at the Panthera Africa Big Cat Sanctuary in South Africa's Western Cape. The journey was supported by IAG Cargo who provided the lionesses' flights from London Heathrow to Cape Town.

The new section at Panthera Africa Big Cat Sanctuary has been made possible through the support of Born Free's partner, British Airways Holidays, who, as part of their long-term commitment to animal welfare, has funded the construction of the spacious new enclosure, including the perimeter fence, night house and security provisions.
Claire Bentley, Managing Director of British Airways Holidays, said: "We are delighted to have been able to support Born Free and enable Alpha and Cora to spend the rest of their lives in their natural habitat. We know our customers are behind us in supporting causes like this and we are proud that our new Animal Welfare Policy and its various initiatives will help improve the lives of animals living in captivity all over the world.
"This is a long-term commitment for us and the first of many projects that we'll be supporting Born Free with. We look forward to developing this extremely important partnership."
Alpha and Cora first came to the attention of Born Free in December 2016, when the Pena Escrita Zoo in Almunecar, southern Spain, closed due to bankruptcy and concerns about animal welfare.
The team from Natuurhulpcentrum teamed up with Dutch animal rights organisation Stichting AAP to collect them from the facility, overseen by Spanish animal charity FAADA. Alpha and Cora were driven to Natuurhulpcentrum, where they were cared for while Born Free constructed a spacious new enclosure for them at Panthera Africa Big Cat Sanctuary.
Born Free's Animal Rescue and Care Manager, Maggie Balaskas, said: "To see Alpha and Cora arrive safely at their new home at Panthera Africa Big Cat Sanctuary was a joy to witness. We are extremely grateful to IAG Cargo who looked after the lionesses on their journey to South Africa, and to British Airways Holidays for providing the support we needed to establish the Born Free Rescue Section which allowed us to rehome these two lionesses. The journey went smoothly and both Alpha and Cora were released into their new enclosure where they are able to enjoy the sunshine and new space they have. Alpha and Cora have lived their lives in captivity and will sadly never be able to be released into the wild, but at Panthera Africa Big Cat Sanctuary they will be given the expert care they need and will now live in a spacious and peaceful environment."
Alpha and Cora are the first big cats to arrive at the new Born Free Rescue Section and it is hoped the facility will one day provide a safe haven for many more rescued big cats.
Lizaene Cornwall, Co-Founder of Panthera Africa Big Cat Sanctuary, added: "We are truly honoured to be working with Born Free and to be able to give a new home to Alpha and Cora. We work to provide rescued big cats with a peaceful and safe home and as soon as we saw Alpha and Cora, we knew we wanted to help in any way we could. The support of British Airways Holidays made it possible for us to build Alpha and Cora a spacious new enclosure with a night house and I am really pleased that, since arriving, they have both made the most of the space they have. We are delighted that Alpha and Cora are now part of our pride."
PANTHERA AFRICA BIG CAT SANCTUARY
IMAGE: ©️ Luke Smith/British Airways