Act now for animals coalition
50 ANIMAL CHARITIES UNITE TO URGE GOVERNMENT NOT TO WASTE 'ONCE IN A GENERATION' OPPORTUNITY TO PROTECT ANIMALS
Born Free joins an unprecedented coalition of 50 animal welfare charities is urging the Government not to waste 'once-in-a-generation opportunity' to redefine our relationship with animals through a new animal health and welfare strategy.
The group has released a new vision for animal welfare "Act Now For Animals" – setting out the sector's priorities for creating a society which rebalances the way we rear, live and work with animals.

The paper sets out 40 recommendations – including a number of important measures to improve the welfare of wildlife such as banning the use of glue traps and snares, banning primates as pets and an immediate end to the mass culling of badgers.
The vision also covers companion and farm animals.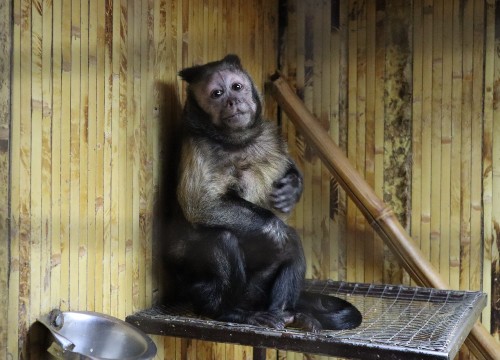 Dr Mark Jones, Head of Policy, Born Free Foundation, said: "The world's wildlife is in crisis, with over exploitation among key drivers of declines and extinctions. Covid-19 has also thrown a light on the consequences for humanity when we mistreat animals. If we are to halt and reverse nature's decline, and reduce the risk of future pandemics, we need to integrate high animal welfare standards into every aspect of our relationship with wildlife. The UK Government must take this opportunity to set a global precedent by placing animal welfare at the heart of its domestic and international policy agendas."
Claire Bass, executive director of Humane Society International/UK said: "To truly earn the title of 'world leader in animal welfare' will require ambition, vision and strategy from the Government. Promoting animal welfare shouldn't be done as an add-on to government policy, it needs to be acknowledged and included as part of the solution to some of the toughest global challenges we face, including stopping climate change and preventing future pandemics. We are ready to work with government on a strategy built on respect for the needs of sentient animals, who enrich and improve our lives in so many ways."
Chris Packham, who has lent his support to the charities, added: "The last animal welfare strategy was 17 years ago in 2004 and so much has changed since then. The past two decades have seen an attitudinal change in the public and growing scientific understanding that animals have emotions, feelings and needs and deserve a good life. We must act now for animals and ensure the Government does not squander this opportunity to build a world-leading animal welfare strategy, fit for the 21st century and deserving of this nation of animal lovers."
Other influential names lending their support to the action include DJ Sara Cox, TV personality Angela Rippon, choreographer and TV presenter Arlene Phillips, actress and wildlife campaigner Virginia McKenna OBE and actress Carol Royle.
Crucial to the paper's recommendations, is the role of the new Animal Sentience Committee. For the Government to fulfil its commitment to recognise animals as sentient beings, the coalition are clear that the committee must have real teeth. It must be independently chaired, made up of the leading animal welfare experts in the country and be able to meaningfully hold Ministers to account.
The report highlights that Born Free revealed that Dangerous and Wild Animal licences were issued for at least 3951 animals in 2020 in Great Britain. A further 400 plus licences involving 11,400 wild animals were issued between October 2018 to October 2020 to keep or train animals for exhibition in England.
The document outlines that there were 677 reports collated by The League Against Cruel Sports of suspected illegal fox hunting.
By April 2021 there had been more than 400 outbreaks of Covid-19 on mink fur farms in 12 countries.
Iain Green, Director of Animal Aid, said: "It is time to change the way we treat animals – in our lives and in our laws. New animal welfare legislation offers the opportunity to ban abhorrent practices such as the use of snares to catch wild animals, and the intensive breeding of pheasants and partridges for shooting. The coming together of such a diversity of animal organisations to work on the recommendations in the Green Paper is a fantastic step forward. Members of these groups and the wider public will be looking to the Government to maximise this opportunity and to bring about real change for animals."
Andy Knott, CEO of the League Against Cruel Sports, said: "Wild animals deserve robust protection too, especially those that are harmed or killed because of so-called 'sports' such as fox, stag and hare hunting and commercial shooting. It's not just the hunted animals that are harmed, it's other species like badgers or even cats and dogs that are trapped in cruel snares, or the breeding birds kept in tiny cages just to produce the millions of eggs needed for the shooting industry. It's time to strengthen the Hunting Act, introduce a complete ban on snares, and to stop caged breeding of 'game' birds."
Vanessa Amoroso, External Affairs Advisor, World Animal Protection: "The long awaited animal welfare action plan comes after many years of campaigning for positive change for animals, both at home and away. Whether its banning the keeping of primates as pets, the import of hunting trophies, advising against harmful low-welfare activities abroad such as elephant riding, or improving welfare for farmed animals. The next ten years are crucial to safeguarding over exploited wild populations, habitats, and preventing future pandemics by ensuring good animal, and therefore human, health. The survival of our planet, of animals and of ourselves is implicitly interlinked and now is the time for real recognition and meaningful action from the UK Government."
The coalition stressed that to be successful, enforcement must be a statutory obligation under any legislation and furthermore the effectiveness of existing and new laws must be more robustly and regularly reviewed to ensure they are achieving their intentions.
The coalition comprises 50 organisations including: Animal Aid, Battersea, Blue Cross, Born Free, Bransby Horses, Brook Action for Working Horses and Donkeys, Cats Protection, CFSG, Compassion in World Farming, Dogs Trust, Horse Trust, HSI, IFAW, Kennel Club, League Against Cruel Sports, Mare and Foal Sanctuary, PDSA, Redwings, RSPCA, SPANA, Scottish SPCA, World Horse Welfare, World Animal Protection
WILDLIFE WELFARE RECOMMENDATIONS INCLUDE:
A complete review of wildlife legislation similar to the recommendations provided by the Law Commission's 2015 Wildlife Law report.
Banning the sale and use of all glue traps and snares. Overhaul legislation for trapping wild animals so all traps are rigorously tested for humaneness and ensure operators of traps demonstrate competence.
Banning the intensive breeding of 'game' birds.
Banning trail hunting on government-owned land and strengthening the Hunting Act by introducing an offence of recklessly hunting a wild mammal
Phasing out the mass culling of badgers in England in favour of more humane and effective alternatives
Protecting hares by adding them to Schedule 5 of the Wildlife and Countryside Act or introduce a closed season to the current Game Acts with greater penalties for the illegal taking of brown hares.
Meeting its Fisheries Act commitment to minimise and where possible eliminate sensitive species bycatch, the UK and devolved Governments to set ambitious annual targets to continually reduce bycatch, to invest in bycatch solutions for UK fleets and independent at sea monitoring to track progress.
Banning keeping primates as pets, with a grandfather clause for existing animals and the provision of a centralised enforcement body.
A comprehensive review of the trade in and private keeping of wild animals as 'pets'
Restricting the keeping or training of wild animals for exhibition or performance in Great Britain and to ban the advertisement of cruel animal entertainments overseas.
Ban on the import and export of hunting trophies, with no provisions for exemptions such as trophies hunted under purported 'conservation benefits'.
Banning the import and sale of animal fur and to lead global diplomatic advocacy (e.g. at G7 and G20) on the need to end the farming and trade of wild animals that pose both unacceptable animal welfare outcomes and zoonotic disease risks.
A global agreement on tackling wildlife crime and to use the upcoming review of CITES regulations to further strengthen scrutiny of and restrictions on wildlife trade.
Maintaining support and financial commitment to the International Whaling Commission and the preservation of the moratorium on commercial whaling.
Investing Government funds in fish welfare research and humane killing technologies, with a view to developing legislation for humane fish capture and slaughter in UK waters.

SHARE ON FACEBOOK SHARE ON TWITTER