A day in the life of an Elephant Guardian
13 March 2023
A DAY IN THE LIFE OF AN ELEPHANT GUARDIAN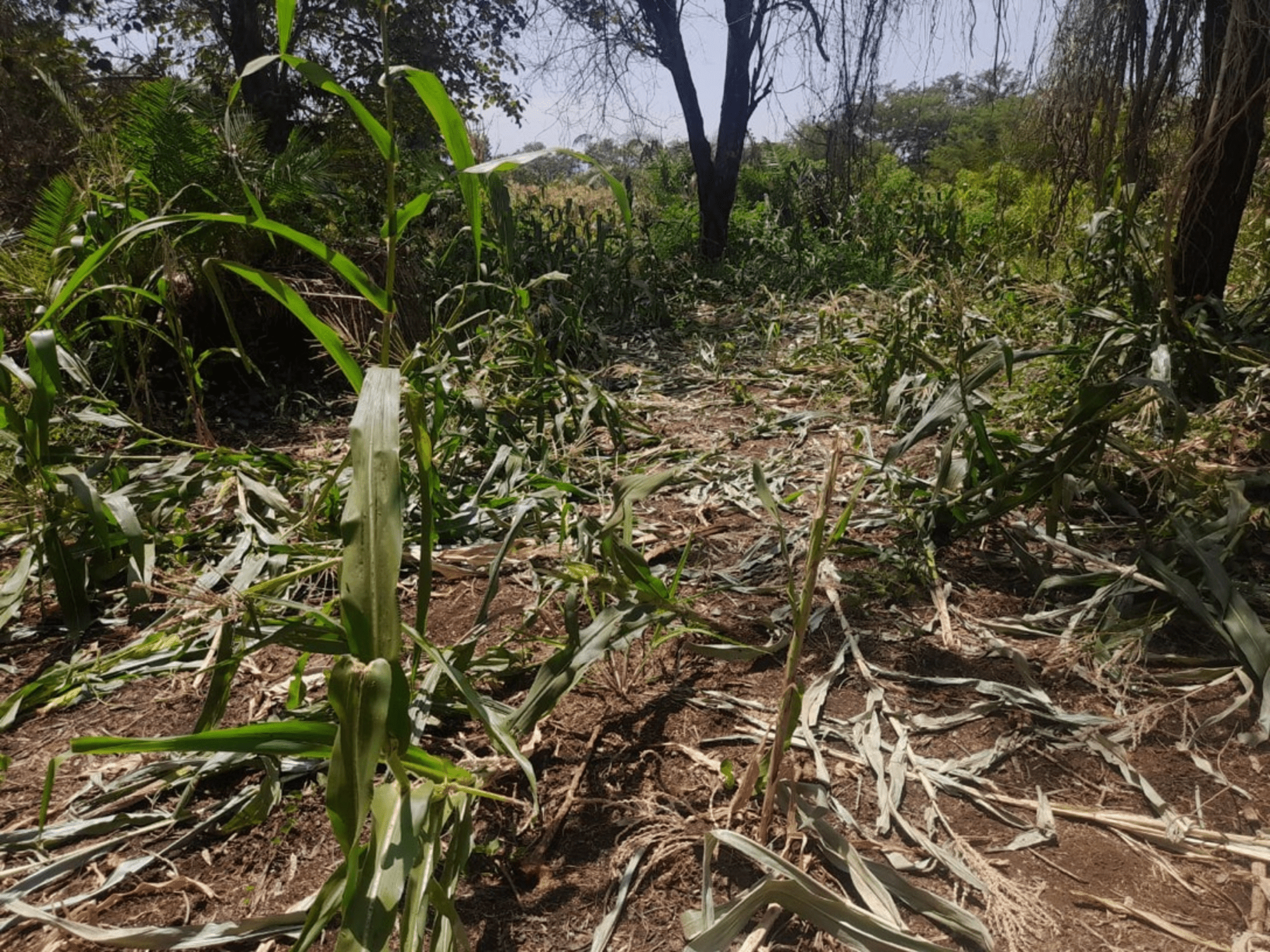 Flying the flag for elephants, our team in Kenya helps local people humanely protect crops and tackle human-elephant conflict. Our Saving Meru's Giants Manager, Newton Simiyu, reports. 
In Makutano, one of Born Free's project areas near Meru National Park, Kenya, it is a calm and cool night. Suddenly, a member of the community calls. Patrick Gitare Kanake, one of our five locally employed Elephant Guardians, at first mistook the noise for his typical morning alarm and disregarded it to get a little more sleep. "The phone rang again. I hardly even glanced at the caller ID before answering when I woke up, he recalls. It was a strange voice, and there was no introduction from the other end of the call.
"Elephants are about to breach my farm's fence," was the next sound he heard, to which he promptly jumped out of bed, suddenly noticing that it was just after midnight.
The day before, he had gotten off to a good start, visiting various groups of farmers on his Suzuki motorcycle to discuss the value of protecting and coexisting with wild animals as well as stopping by pilot farmers to check out and assist with beehive fences to lessen crop raiding in farms. He arrived home that evening exhausted and late. He had no choice but to answer the call; as a result, he had to act and try to be of assistance.
"I made a quick call to the KWS (Kenya Wildlife Service) community warden to request assistance. The farmer called back a minute later to say that the elephant had now entered the farm and he would suffer a great loss as a result." Kanake assured him that help would be on its way and the most important thing was to stay inside for his safety. It was horrible to see the magnitude of the damage"
KWS was quick to respond, but there were already significant crop damages when they arrived. The elephant was driven back to the park, where the farmer's information was recorded, and compensation forms were filled out. Kanake finally returned home at five in the morning.
Communities around Meru continue to suffer from the current, ongoing drought in Kenya. There is water scarcity and depletion of fodder. More competition for available resources forces wildlife to venture into community spaces. Naturally, conflicts between wildlife have become common – a sign that both the community and wildlife have it tough.
After taking his breakfast, it was just another working day for Kanake. He is passionate about helping his community tolerate and coexist with wildlife. Another farmer calls requesting him to visit and see how elephants had raided his farm at night and destroyed his only source of hope for food and income. "It was horrible to see the magnitude of the damage," he recalls – three-quarters of the crop was destroyed and what was remaining could not sustain the farmer's needs. "If it were not for Born Free conservation and awareness and coexistence programme, I would retaliate because it has pained me a lot," the farmer said.
The situation was deeply affecting for Kanake. But, he keeps on reassuring local people that Born Free is taking action to find solutions to conflicts and advising affected farmers to report to the relevant local authority for compensation. The villagers have very high expectations of him, because he is now a leader and ambassador for conservation in his community. "They had the impression that all of their human-wildlife conflict issues would be resolved, when I was employed," he explains. "When their farms are destroyed by elephants and the compensation process is slow, I can feel stressed even though I can't show them because they expect a solution from me."
In recognition of the challenges the locals are facing, Born Free has employed several strategies to increase tolerance, reduce conflicts, and promote coexistence between the communities and wild animals. For example, we are testing 'Beehive fences' as a main conflict mitigation measure. These are a series of interlinked beehives connected by wire and built around the outside of a farm to help protect crops from elephant raids. These will protect crops, lessen crop raids by elephants, and improve livelihoods through honey sales.
You can help Kanake and his team. Your donation will be essential to their vital work to resolve conflict, help people, and save elephants. Together we can turn conflict into coexistence.