2022 winners of the mckenna travers award for compassionate conservation
17 October 2022
2022 WINNERS OF THE MCKENNA-TRAVERS AWARD FOR COMPASSIONATE CONSERVATION & PEOPLE'S CHOICE ANNOUNCED!
Born Free is thrilled to announce that the winner of the 2022 McKenna-Travers Award for Compassionate Conservation is Letícia Benavalli for her outstanding work to improve the welfare of jaguars in Cerrado, Brazil. Our People's Choice winner has also been named as Getachew Assefa Takele, for his work to protect endangered Ethiopian wolves.
Overall winner: Letícia Benavalli
Congratulations to Letícia Benavalli, who has been declared the overall winner (£10,000) for her work to protect jaguars in the Cerrado landscape.
You may well have never heard of the Cerrado but it is the largest savannah region in South America and is one of the most biodiverse places on the planet. In the Cerrado, characterised by grasslands and shrubbery akin to African savannahs, the Brazilian tapir, maned wolf, ocelot, giant anteater, giant armadillo and a host of wonderous species roam.
The jaguar is just one of many inhabitants. But these creatures, large and small, live in one of the most threatened and over-exploited regions in Brazil. The jaguar population has been splintered by people carving up the land and converting natural vegetation for pastures and agriculture. This leaves jaguar populations vulnerable to extinction and they are now considered highly threatened.
Letícia Benavalli's project aims to turnaround the predicament jaguars face by working with local communities to empower them to conserve the Cerrado habitat on private lands, securing water sources, promoting eco-tourism and mitigation conflicts between jaguars and people. An important part of this project is determining the number of jaguars and other threatened species in two protected areas of the Cerrado. Restoration and expansion of Cerrado habitat near protected area boundaries is the next critical step to ensure that isolated jaguar populations can join up. The scale of the restoration is vast, which is why volunteers and schools will take part in planting 3,000 native tree species in important riparian habitats. For private landowners who agree to take part in restoration efforts, sustainable eco-tourism ventures can be developed. Similar to many other Born Free conservation projects, Letícia Benavalli's project aims to mitigate conflict between jaguars and people by training landowners on how to use effective methods such as night enclosures and guard dogs to protect their livestock. A key component of the project is the empowerment of local women by involving them in research and eco-tourism opportunities.
Letícia said, "I believe that conservation of wildlife and natural resources is the easiest way to improve the welfare of both animals and people in a changing world. This award inspires me even more and reassures that is possible to make others support and truly believe in this lifetime commitment".
She added: "Whether the focus is on species or ecosystems, protection or sustainable use, wildlife or people, welfare of individual animals or populations, I have been following my dream to contribute to the conservation legacy in Brazil, keeping the sparkle alive for the next generations. People should recognize that they are the heart of any conservation story, so that the value and power of their actions become allies in our cause, building a just and equitable world where science and engagement can help local communities."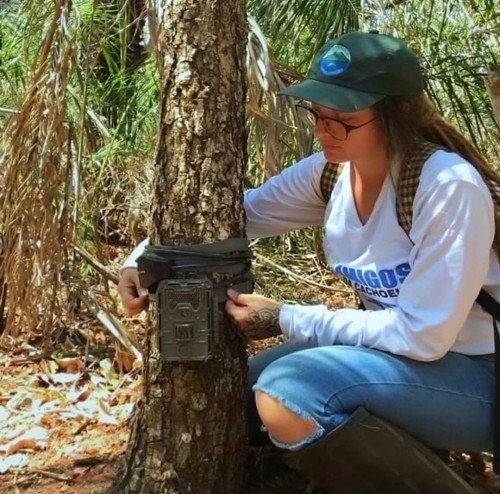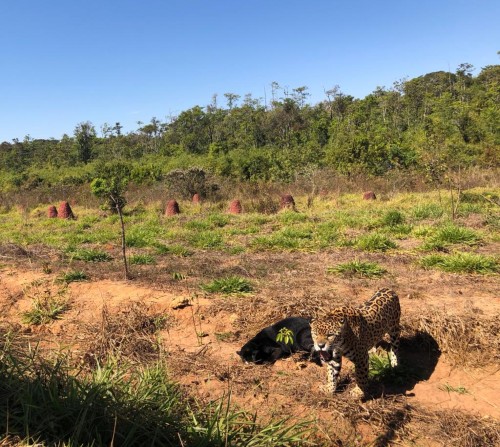 2022 People's Choice Award Winner
People's Choice: Getachew Assefa Takele
Congratulations to Getachew Assefa Takele, the winner of the 2022 People's Choice Award for his crucial work in fostering coexistence with Ethiopian wolves, the world's most threatened canid.
This year's People's Choice Award received a total of 6,503 votes, with almost half the voters choosing Getachew.
Getachew was born near the Simien Mountains in Ethiopia, home to Ethiopian wolves and has dedicated much of his life to working to conserve the species. Ethiopian wolves are the worlds most threatened canid, with only around 500 individuals remaining.
With a team of Wolf Monitors and Ambassadors, Getachew carefully watches over the wolves that roam Simien Mountains National Park. The Simien Mountains National Park is one of the most important protected areas of Ethiopia, set aside to conserve its exceptional scenery and unique flora and fauna. The Ethiopian Wolf Conservation Programme (EWCP), supported by Born Free since 1995, has implemented conservation activities including vaccination programmes, grassland conservation and wolf monitoring across Ethiopian wolf ranges for over 25 years. While these activities created high levels of awareness across communities, awareness did not necessary result in meaningful changes in specific behaviours leading to human-wildlife conflict.
For this reason, EWCP is shifting to fostering coexistence through promoting behavioural change. The Living with Wolves in Simien project aims to minimise impact of threats that affect the wolves' welfare, directly though mortality or indirectly through disturbance and stress. These threats are emerging or increasing as the lives of people and wolves become more closely linked, including the chasing of wolves by people or dogs, interference with breeding dens, killing of wolves and other forms of disturbance from new roads and tourism.
With MTA funding the local EWCP team can identify these threats, learn and integrate new approaches, and engage our partners in Simien to affect behavioural change on the local communities and visitors. This is important because the wolf population in Simien is one of the most disturbed: these wolves tend to avoid people and livestock, affecting their foraging patterns, are difficult to observe and are not breeding as well as in other populations. If we can reduce these sources of disturbances, the wolves of Simien will live longer and better lives.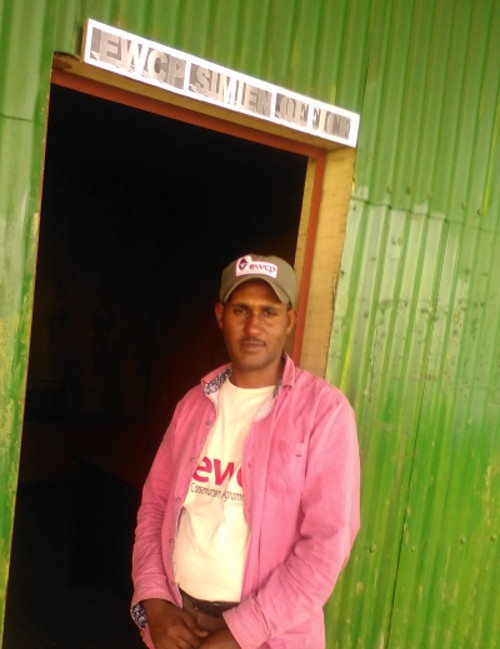 "I am well known in Simien by the nickname ''the wolf man of Simien''. Whenever there is a problem in the mountains, local people or park scouts contact me. I am always pondering how even looking after a single wounded wolf in its natural habitat could bring a big change on the attitude of the local people to protect the wild animals in the park. I have always felt a special interest for the Ethiopian wolves and I am dedicated for the conservation of wildlife."
CONGRATULATIONS TO OUR HIGHLY COMMENDED NOMINEES
This year, we have also awarded a £1,000 prize to our two highly commended People's Choice nominees, to support their vital work.
Suzanne Asha Stone

Suzanne works with ranchers to help wolves and other predators by implementing nonlethal coexistence tools in one of the USA's largest sheep grazing regions on national forest lands. Tools such as Foxlights, adding livestock guardian dogs, and other methods help keep wolves away from sheep and demonstrate they can coexist.

Suzanne says: "I thank the Born Free Foundation for this recognition. The story of Born Free inspired me as a child and greatly influenced my decision to dedicate my life to wolf conservation."
Kevin Newell

Kevin is founder of the Scottish Gull Project, which aims to stop the steep decline of Red and Amber listed gull species across Scotland.

Kevin says: "It was a huge honour being a finalist for the award and something I am truly proud of – all the projects were fantastic so there are no losers in this!

"I have reared and helped hundreds of gull chicks over the years helping save them and in this time I have got to know how individaul gulls are just like us humans and its this reason and the fact thousands of these Red listed birds are killed each year drives to forward to try and help as many as i can."